Travesty In Haiti
Travesty in Haiti: A true account of Christian missions, orphanages, fraud, food aid and drug trafficking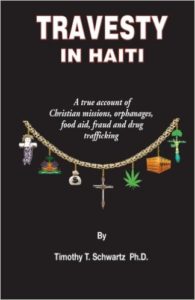 TRAVESTY is an anthropologist's personal story of working with foreign aid agencies and discovering that fraud, greed, corruption, apathy, and political agendas permeate the industry. It is a story of failed agricultural, health and credit projects; violent struggles for control over foreign aid; corrupt orphanage owners, pastors, and missionaries; the nepotistic manipulation of research funds; economically counterproductive food aid distribution programs that undermine the Haitian agricultural economy; disastrous social engineering by foreign governments, international financial and development organizations–such as the World Bank and USAID– and the multinational corporate charities that have sprung up in their service, CARE International, Catholic Relief Services, World Vision, and the dozens of other massive charities that have programs spread across the globe, moving in response not only to disasters and need, but political agendas and economic opportunity.
TRAVESTY also chronicles the lives of Haitians and describes how political disillusionment sometimes ignites explosive mob rage among peasants frustrated with the foreign aid organizations, governments and international agencies that fund them. TRAVESTY recounts how some Haitians use whatever means possible try to better their living standards, most recently drug trafficking, and in doing so explains why at the service of international narcotraffickers and Haitian money laundering elites, Haiti has become a failed State. TRAVESTY reads like a novel. It takes the reader from the bowels of foreign aid in the field; to the posh and orderly urban headquarters of charities such as CARE International; to the cold, distant heights of Capitol Hill policy planners.
The journey is marked by true accounts involving violence, corruption, appalling greed, sexual exploitation, disastrous social engineering, and the inside world of drug traffickers. But TRAVESTY it is not a novel. It is founded on 15 years of academic and field experience, research, and hard data. It entertains the reader with vivid first hand accounts while treating seriously the problems inherent not only in international aid, but the sabotaging effects of the drug war on economic development in remote and impoverished areas of the hemisphere.
---
Praise
This book knocks it out of the park
Paul Farmer
I recommend to anyone who has an interest in helping the Haitian people that they read Timothy Schwartz's book Travesty in Haiti
Sean Penn on the Charlie Rose Show
Anyone on the way to join the rebuilding of Haiti, or to write about it, must put this book in her bag. It's a tour de force — a searing expose of what bad foreign aid and trade policies have wrought in Haiti, a gripping and moving account of hamlet life, and a rollicking, hilarious read. Beyond Haiti, it's a must read for anyone who wants to understand international development as actually practiced. It belongs on the shelf next to Paul Collier, Bill Easterly and other smart "mend it don't, end it" critics of foreign aid.
Ken Dilanian, LA Times
painfully personal, shockingly revealing, intensely honest. .In addition to the enlightening content, Schwartz's lyrical and lapidary prose maintains the reader's attention throughout. I invite all those with ideas of saving the world to study this work.
Robert Lawless, Author of Haiti's Bad Press
An excellent & illuminating piece of work. . .
Peter Hallward, Author of Damming the Flood
This book is by far the most insightful, educating, and rewarding work on Haiti — and indeed on the entire field of overseas charitable operations. Anyone interested in Haiti or in charities should read it.
Paul M.Gahlinger, AAASS Prize Ph Sc.
. . . bracingly honest and unflinching analysis of Haiti's charity industry – food aid, orphanages, religious missions, foreign nongovernment organizations (NGOs) . . . essential reading for anyone seeking to understand the true effects and role of international aid to Haiti.
Kim Ives, Editor, Haiti Liberte
Timothy T. Schwartz makes the complex and weighty topic of foreign aid to Haiti, Christian missions and the impact of "charitable" works interesting, humorous and readily understandable. With this book, he has made a significant contribution to the plight of the Haitian people. . . . . . a must read for anyone interested in hearing the truth about Haiti.
Marguerite Laurent, Playwright, poet, lawyer
---
In the News
Review of Travesty in Haiti by Timothy T. Schwartz, Posted May 2012, MIT, Christian Shelf

Travesty in Haiti: A True Account of Christian Missions, Orphanages, Food Aid, Fraud, and Drug Trafficking, by Timothy Schwartz (Review by Benjamin Edwards) Journal of Haitian Studies, Volume 18, Number 1 …

Landon Yarrington – The (Im)possibility of Time Travel: Haiti's Pre- and Post-Earthquake Futures


New West Indian Guide Vol. 86, no. 3-4 (2012), pp. 302-308 URL: URN:NBN:NL:UI:10-1-113832 Copyright: content is licensed under a Creative Commons Attribution 3.0 License ISSN: 0028-9930

Travesty in Haiti by 

Adam Burtle

  – Structural Violence April 30, 2011
Fraud, false aid, false charity, false food aid -Ezili Danto reviews Timothy T. Schwartz's book

Development Debacles: Book Review of "Travesty in Haiti"




Posted on: 26 January 2013  By: Bryan Schaaf

Unpalatable truths about food aid for Haiti In Caribbean Beat Reviews – July/August 2011